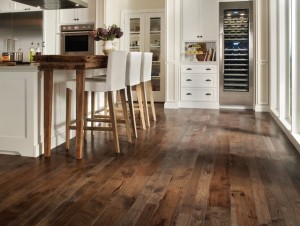 Having wooden floors at your home not only gives it a warm and classy look, but also significantly increases the value of your home. However, installing solid hardwood floors may be a very expensive undertaking. Fortunately, you can have that wooden floor look that you always wanted for your home without having to pay expensively for it. You can choose the engineered wood flooring instead.
Engineered flooring is made up of manufactured wood layers that are topped off with a hardwood veneer. The middle layers and the bottom layers are designed to prevent the floors from warping or buckling. A homeowner who wants to redo his home's flooring must choose the engineered flooring based on both aesthetics and durability. Here are some features to consider.
Finish Flooring
Engineered flooring comes in either pre-finished or unfinished. You can choose different types of stain colors when you choose the pre-finished boards. On the other hand, if you choose the unfinished boards, you get to have control on what to color your flooring after you installed them. However, you will have to do extra work in staining and finishing these types of floorboards.
Floor Area
Engineered flooring planks come in lengths ranging from 12 inches to 49 inches. Their widths will also vary. If you are planning to buy the engineered wood flooring, make sure that you compute first the area that you want to cover so that you will have an estimate on the number of boards that you will get. It is advisable to purchase an extra five to 10 % of what you actually need to be used as replacement boards in the future.
Wood grade
Wood grade refers to the amount of variation in the grain of the wood. Select or quality grade engineered flooring boards will have a more even graining and have fewer knots. On the other hand, if you choose builder's or value grade boards, you might end up with mix-matched graining. The type of grading you choose will depend mostly on your taste.
Wood Flooring Durability
As far as durability is concerned, the thickness of the top layer veneer will determine whether your engineered flooring will last long time. Thickness ranges from .6 mm to 6 mm. If you want your floors to last a long time, purchase engineered flooring that is at least 4 mm thick. You can also assess the durability of engineered flooring based on the Janka Scale, which determines the hardness of the wood species that the wood flooring is made up of.
Overall, your choice for the best engineered wood flooring will depend on how much foot traffic the floor will have on a daily basis and your taste.