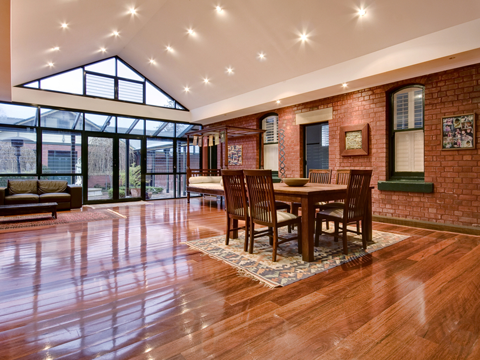 Because of the added appeal and aesthetic value that solid hardwood floors have in a home, more homeowners are choosing hardwood flooring over carpet. Homeowners get to choose from a myriad of types and styles of solid hardwood floors which may be composed of domestic hardwood or exotic wood species imported from other countries. Throughout the years, there has also been an increase in the number of manufacturers for hardwood flooring that adds to homeowners' consideration, as to which manufacturer to source their materials from. In order to help homeowners in decision-making, here is a side by side comparison of two well-known hardwood flooring manufacturers. This article will focus in discussing whatever advantages and disadvantages each Somerset vs. Mullican solid hardwood floors has.
Somerset Solid Hardwood Floors
Having more than 20 years experience in the industry, Somerset Solid Hardwood Floors is a manufacturer of hardwood flooring materials that started out offering only solid hardwood coming from the Appalachian region of the USA. Somerset in the beginning offered only a limited selection of red oak, white oak and maple flooring. They eventually expanded by having engineered hardwood floorings that they have manufactured overseas. Many installers categorize Somerset as a middle quality four-out-of-five-star rating hardwood flooring manufacturer, which can be advantageous because you will know that they cannot demand prices that are too high for their solid hardwood floors. Another advantage of choosing Somerset is that they designed their engineered hardwood flooring products to appear similar to the real wood. Also, their engineered products are sawn at longer lengths, which a lot of installers prefer. Longer lengths also appear more appealing after they are installed. Most engineered wood flooring from other manufacturers do not exceed 48 inches in length; Somerset's engineered hardwood floors on the other hand come in at lengths of 12 inches up to 84 inches.
So if you are looking for relatively affordable engineered hardwood flooring materials that have the extra length, then Somerset solid hardwood floors is the manufacturer that you should call.
Mullican Solid Hardwood Floors
Mullican solid hardwood floors is an American manufacturer primarily engaged in producing and distributing both pre-finished and unfinished hardwood flooring. Although it only started in 1985, Mullican already has five processing plants which are located in Kentucky, New York, Tennessee, Virginia and West Virginia. They source their solid hardwoods from timber grown and harvested from the United States' Appalachian region. Like Somerset, Mullican offers hardwood flooring species of red and white oak, along with maple and hickory. The advantage of getting your materials from Mullican is that they have a certification from the Forest Stewardship Council which certifies that their hardwood floors belong to the Green Haven Collection.
Mullican, like most hardwood flooring manufacturers, have also brought in exotic wood species as well as have engineered hardwood floor materials processed from overseas. This increases the hardwood flooring selection that is available from Mullican solid wood floors.
To sum it all up, the two above-mentioned hardwood flooring manufacturers are competent enough to give you all the hardwood materials that you will need for your own home. It is up to your negotiation skills to get the most value for your money when you decide to start ordering from any of these two.